Air Knight UV Light Purification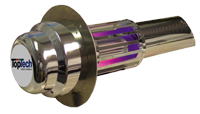 Ultraviolet light kills bacteria and mold growing on your indoor coil before they are circulated throughout your home. UV lamps are installed near your existing indoor coil and work diligently to rid your home of the bacteria, viruses, mold and germs that impact your home's health. We install 1 or 2 lights per indoor coil, depending on the size of the coil.
Benefits of the Air Knight® Purifier over traditional UV Lights
The combination of UV light enhanced by a hydrated quad-metallic compound target develops an advanced oxidation plasma. This process also produces hydro-peroxides, super oxide ions and hydroxides. By engineering the proper UV light wavelength, in combination with triple function, no maintenance unit, the PHI cell provides safe hydro-peroxides, super oxide ions and hydroxides to purify the air.